judge: Vladimir Piskaj (SK)
champion class
C.I.B. CAPTURE GAMBITAS - Exc.1/2, CAC, Club Winner, BOB
→ started Czech Grand Champion
intermediate class
C.I.B.J. KRANAR ARABESKA - Exc.1/2, CAC
→ started Czech Champion and Czech Club Champion
06.05.2023 | Zobrazeno: 35×

Our second expacted litter and the last one this year should be born at the beginning of May. Parents very successful at exhibitions. Father is a WORLD WINNER - BOB 2021, mother is multi-champion and winner SPECIAL BEST IN SHOW. Both parentsare imports Lithuania and Slovakia.
20.03.2023 | Zobrazeno: 70×

Today is the first day of spring and our childrenare 2 weeks old in this world today ♥
you can see the new photos in the link → PUPPIES
YOU CAN ALSO FOLLOW US ON INSTAGRAM: kennel_pretty_sweet
20.03.2023 | Zobrazeno: 53×

ELLA
18 months old
She passed her maturity test today
" BREEDLING FEMALE"
30 cm
6/6+4
PLL: clear • prcd-PRA: clear • rcd3-PRA: clear • CERF+KSC: clear
20.03.2023 | Zobrazeno: 45×

Hello world
6.3.2023
1 HHL female
2 HHL male
07.03.2023 | Zobrazeno: 56×

it´s here, it´s officially for our Ella
INTERNATIONAL BEAUTY JUNIOR CHAMPION ♥
28.02.2023 | Zobrazeno: 58×

We are very proud to announce to the world that a puppy from a wonderful union will be born in our kennel at the beginning of March.
Mom is an import girl " DAFFY " and the father is a gorgeous dog of American blood " KEYTO " Key To Heart Heybett Jemalle
♥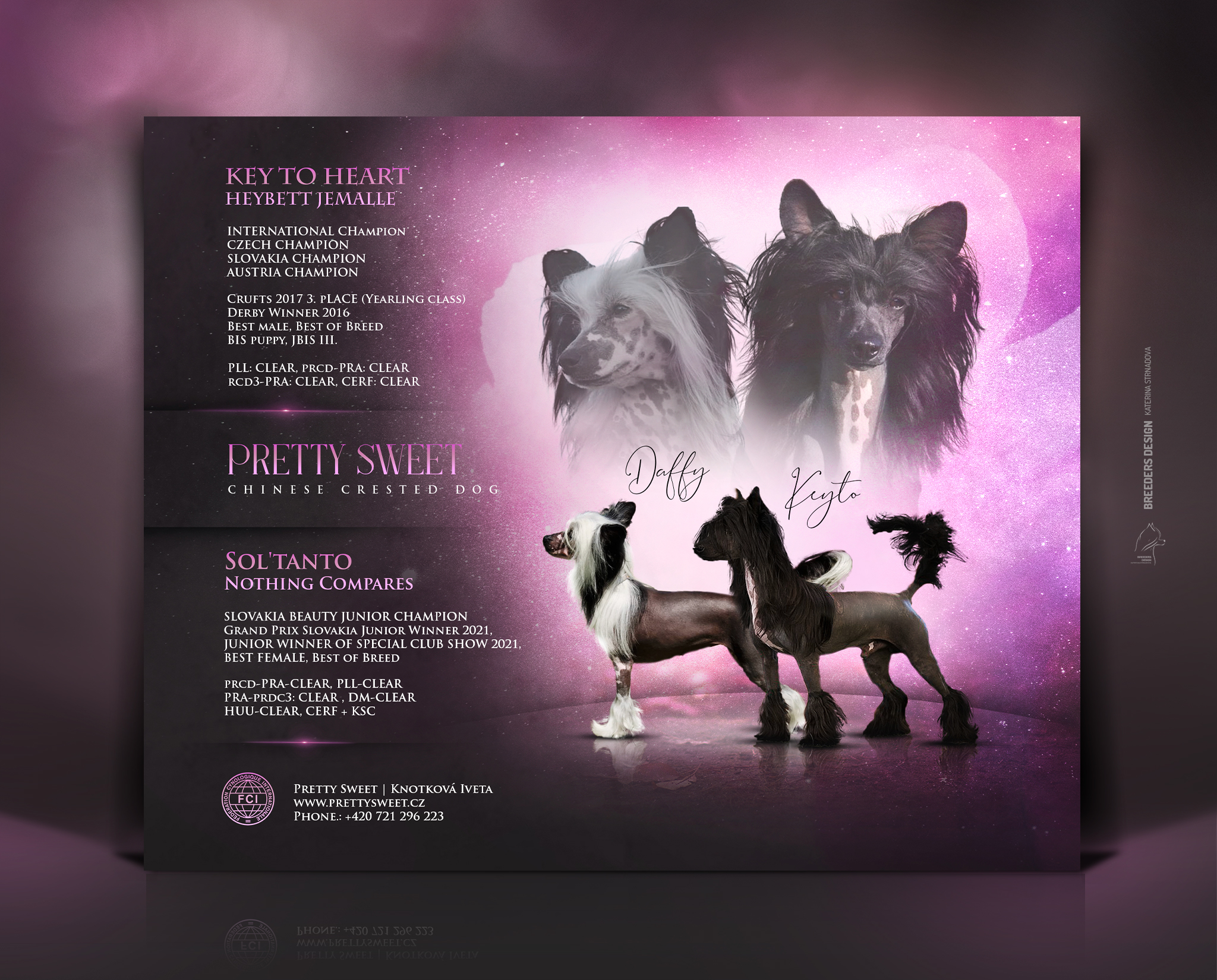 20.02.2023 | Zobrazeno: 52×

We are keeping our fingers crossed and will hopefully give more information soon. If all goes well, we are in for a very interesting connection ♥
07.01.2023 | Zobrazeno: 73×