baby class - 5months
Dida Jewel Pretty Sweet - 2x BEST BABY OF BREED
06.02.2017 | Zobrazeno: 565×

Merry Christmas
and
Happy New Year ♥
08.12.2016 | Zobrazeno: 574×

judge: Sergej Vanzha(SK)
baby class - 4months
Donut Tasty Pretty Sweet - VP1
08.12.2016 | Zobrazeno: 612×

judge: Gunilla Albrigsten
baby class - 4months
Dolly Dancing Pretty Sweet - Best female baby, BOB baby
28.11.2016 | Zobrazeno: 560×

baby class - 4months
Didda Jewel Pretty Sweet - VP1/2, Best Hairless baby
28.11.2016 | Zobrazeno: 583×

judge: A.Koštalova(CZ)
baby class - 4months
Donut Tasty Pretty Sweet - VP1
Dafne Milky Pretty Sweet - VP1/2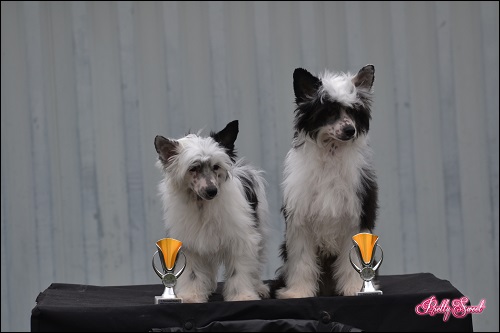 intermediate class - 21months
multiJCH.Da Vinci ze Zatopene chajdy - Exc.1, Class Winner
13.11.2016 | Zobrazeno: 547×

For sale last powderpuff boy. We are looking for a loving home.
Donut Tasty Pretty Sweet "Donut"
Very beautiful phisique, gorgeouse expression, great character, very richt coat, exclusive pedigree...
29.10.2016 | Zobrazeno: 474×

Yesterday she went to the new family of our little Dolly. Beautiful you forever in my heart ♥
29.10.2016 | Zobrazeno: 450×

Today celebrated the puppies 3months and us little boy he traveled with his new family.
Beautiful and happy life Diamant ♥
10.10.2016 | Zobrazeno: 493×

Available for loving show home.
Powderpuff male DONUT TASTY and DIAMANT PEARL BLACK
24.09.2016 | Zobrazeno: 486×

amateur male
Da Vinci ze Zatopene chajdy - 2nd of 3 male (170points)
professional female
Arllet Hope Hoard Gold - 3nd of 6 females (177points)
17.09.2016 | Zobrazeno: 452×

Today he left us little boy ♥ Good luck in your new family... We miss !
16.09.2016 | Zobrazeno: 465×